Jack, Jasmyn
Table Runner made for Hannukah 2003.
From the pattern, Granny's Bloomers.
I also made 2 pot holders, but my dear husband forgot to take pictures
when he took all the others. In fact, for the Hannukah and Christmas
presents, I have only pictures of the quilts.
None of the potholders or 18 Christmas stockings!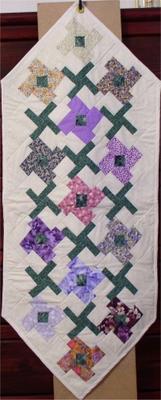 Page Last Modified: 01/26/2011